Our excellent Southern California weather means that we're luckier than most about how much year-round usage we get from our outdoor spaces. But even here the changing seasons means adding a few creature comforts in order to stretch the life of your porch, backyard, or balcony. And as the coronavirus hangs on into the fall and winter seasons, having outdoor space is proving more valuable than ever. Here are a few tips to extend the use of your outdoor areas.
Patio Furniture: No one wants to sit on cold metal or plastic chairs when the weather turns chilly, so add some seat cushions and outdoor pillows for warmth. You can also layer some throw blankets in cheerful colors for another cozy touch.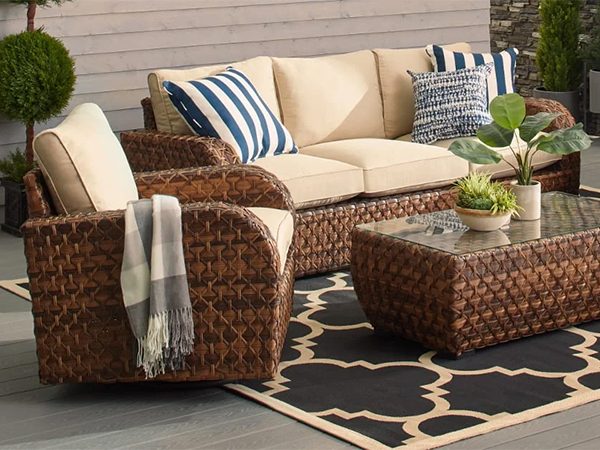 Wind Breaks: Block the wind in cooler weather with an outdoor screen or lattice. You can even put up a line of potted trees to partly enclose a patio or balcony. Do you already have roll-up shades or drapes on your patio cover? Put them to work keeping your space comfortable and inviting. If you're interested in creating more permanent spaces in your yard that function in cooler weather, consider working with Ware Landscaping and we can help you achieve an elegant solution.
Lighting: The end of Daylight Savings means evenings get dark earlier, so lighting your outdoor space is crucial to making it usable. String lights, overhead lamps, or even tiki torches will give a warm glow to your yard or patio and imbue the space with ambiance.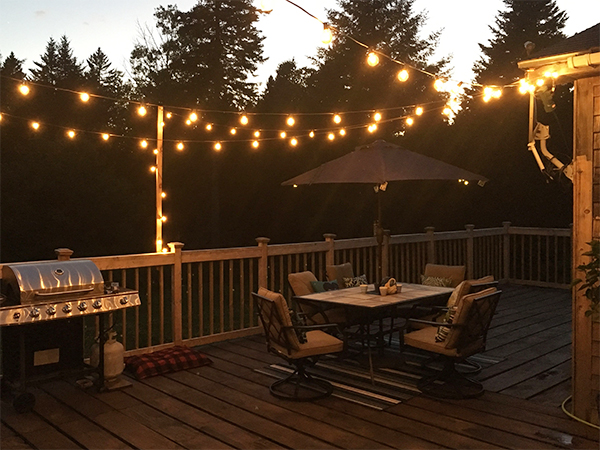 Dining & Entertaining: We're lucky enough to be able to barbecue here all year long, so keep the party outside with a serving table and a bar cart. Keep it stocked with mugs for tea or cider, and spirits for Irish coffees or hot toddies. And if you've been considering a built-in barbecue, food prep area, or outdoor kitchen, let Ware Landscape help you bring your vision to life. You'll get enjoyment out of it all year long.
Warmth: Californians' threshold for being cold is pretty low, so add some warmth with a fire pit or fireplace. Ware Landscape has extensive experience with incorporating these elements into yards and patios, so contact us if you're considering this type of permanent addition. For a temporary solution, consider heat lamps. You can find models that run on propane, as well as electrical or infrared options. Make sure to get one that covers the amount of square feet you want to heat.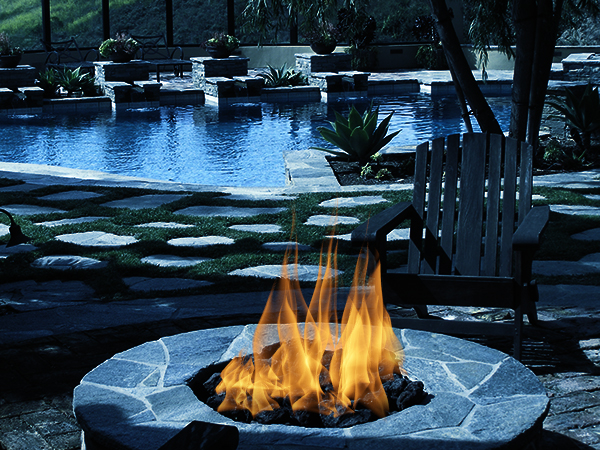 Cool Weather Color: This is a great season for planting cool-weather annuals like pansies, poppies, snapdragons, stock, and cyclamen. We still do get some dry weather and Santa Ana winds even late into the Fall, so be sure to keep them well-watered until they're thoroughly rooted.
You don't have to retreat indoors just because warm weather has come to an end. You can enjoy your outdoor space all year long with just a few adjustments and accessories. However, if all your time outside has you thinking of larger improvements than these, get in touch with Ware Landscape and let's see how we can maximize your yard's potential.