This new home with a Spanish Colonial theme demanded a landscape design that would enhance and complement the architecture. Taking cues from the house, we incorporated slump stone planters with a "sack wash" stucco finish and capped them with the same brick used on the house. Selection of a proper feature tree, along with appropriate plant materials, helped to bring it all together. A new rustic walkway created pedestrian access to the back yard.
Feature tree as a visual anchor

Building materials to create continuity with the house

Drought-tolerant turf to reduce water usage


Drought-tolerant plant material to enhance the Spanish feel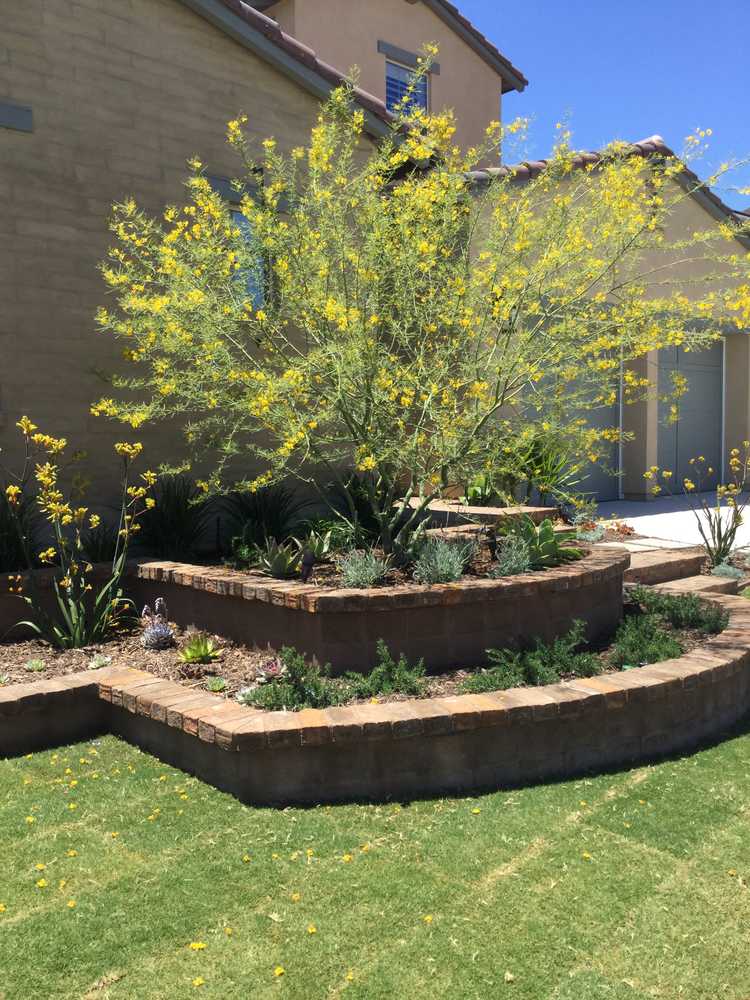 ABOVE ALL, WE BELIEVE
IN QUALITY DESIGN
"From start to finish, Andy was a complete pleasure to work with on our project. He was organized, responsive and super talented. He was receptive to our ideas and his plan encompassed everything we asked for and more. His attention to detail and knowledge of plants was very impressive. He is well versed in many different styles and gave us the exact look we were hoping for. Andy exceeded our expectations and created a landscape we absolutely love!"
~ Sheryl – North Tustin
"We worked with Andy on a complete landscape design for the front of our home. Andy had the exact set of skills we were seeking in a landscape designer when we embarked on our project: knowledge in landscape design, creativity, and a collaborative approach in working with the homeowner. We appreciated the fact that Andy listened to what we wanted and took it into account in his design. The results are beautiful! We absolutely love our new landscape and we have received compliments from other neighbors. It was a pleasure to work with Andy and we recommend him to anyone seeking a landscape design."
~ Gary and Marcia J. – Dana Point
"We first hired Andy to redesign our backyard. His design was thoughtful, bold and exceeded all of our expectations for excellence. We have since hired Andy to redesign our front yard and a putting green for our side yard."
~ Kevin and Kathy S. – Laguna Niguel
"My wife and I have known Andy for about 25 years and have used him for several landscape design and consultation projects. He is extremely knowledgeable and professional. On our first project, he spent numerous hours educating us about the pros and cons of various plant material so that we ended up with the style that we wanted without the maintenance pitfalls that can occur. We highly recommend Andy for all facets of landscape design."
~ Robert A. Owens, CPA
"Andy came up with a very creative, detailed, classy look which we love. His professional & carefully crafted plans made it easy for the contractor to do his job. The previously ordinary & flat appearance of the front of our home was transformed by his artistic use of stone, lighting & plant material. Our backyard has literally become my favorite room of the house. We receive compliments regularly regarding our landscaping."
~ Mike E.
"Andy Ware was recommended to us by a friend for landscape design. From the time that he answered our call, to the end of our project, Andy was professional, punctual, and courteous. He listened to us during our consultation and provided us with a very creative and functional design. His material selection was on-point and proved that our investment in design was well worth the money. We recommend Ware Associates Landscape Design without any hesitation."
~ Bill U. – Laguna Beach
"We had just purchased a new home in South Orange County, and, being from the Midwest, had no idea of what plants grow here, and really had only a vague idea of what we wanted to do to create a new living space. We had an initial consultation with Andy, and he took our vague ideas and transformed them into reality, one step at a time. He offered suggestions beyond the expected for designing our patios, pool, 'California Room', and more. We couldn't be happier with the results!"
~ Shelly L. – Laguna Niguel
"After buying our first home, we discovered that the yard needed some help so that we could really enjoy outdoor living. We hired Ware Associates to do the landscape design, and went through our entire list of 'must haves' with Andy. Having Andy create a landscape plan gave us the tools that we needed to make our dreams a reality. Andy is very creative and easy to work with, and he made the task of home improvement enjoyable."
~ Richard T. – Aliso Viejo
"My husband and I purchased our dream home in South Orange County. Andy Ware was recommended by our architect to design the landscape for a large area surrounding the house, including a swimming pool, spa, firepit, patios, and entertainment areas, as well as play areas for our children. We had many constraints we had to work with, and Andy took those constraints, our ideas, and his creativity and practicality, and created a beautiful landscape that we enjoy day after day. We will recommend Andy to our friends and acquaintances."
~ Gloria L. – San Clemente
"I have been a developer for several years and have successfully built a number of projects, including multi-family and multi-use projects. Our company has retained Ware Associates Landscape Design for several projects and are very satisfied with the results. We recently completed a condominium project in San Clemente and selected Ware Associates to collaborate with architects and engineers to create the landscape plans. Andy became an integral part of our team of designers and architects, and has been a team player for every project he has designed for us. His work has positively addressed any challenges that exist to produce a creative, thoughtful, practical, and aesthetically pleasing set of plans and installation. Andy knows how to navigate through tough situations in coastal bluffs and has a good understanding of the various agencies involved. He meets all deadlines and contributes in a significant way to help produce a viable and desirable product. We are currently working with Andy on our latest project and look forward to seeing the finished project. I recommend Andy to anyone seeking a professional approach and results regarding landscape design."
~ Steve S. – San Clemente